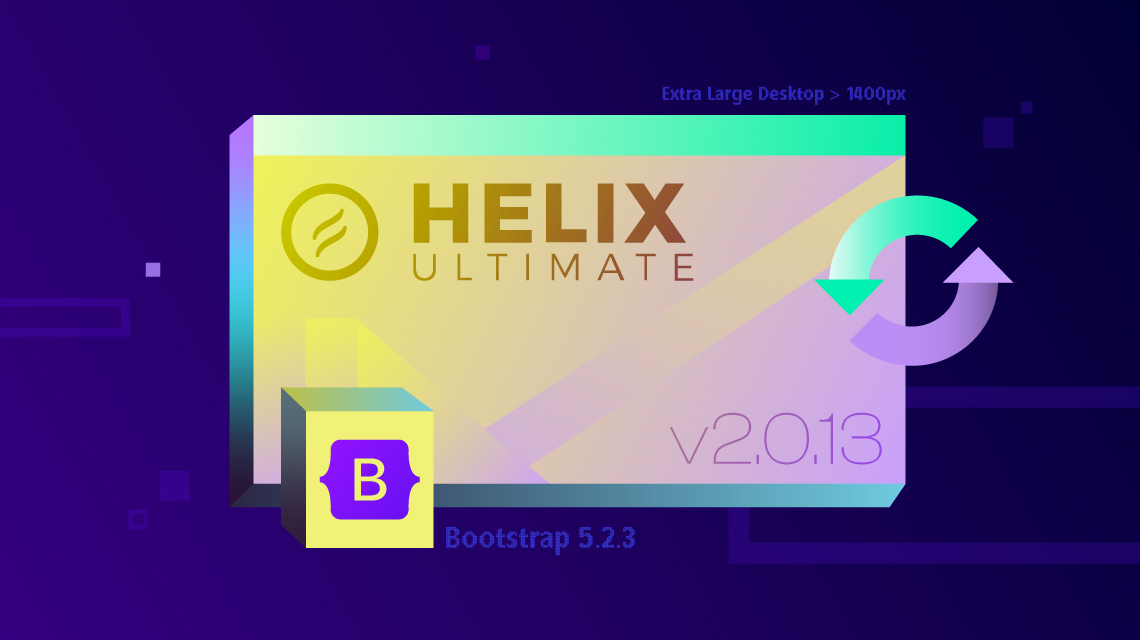 Helix Ultimate v2.0.13 Released: Discover the New Features and Improvements
Greetings, Joomla users! There is exciting news regarding Helix Ultimate. The team behind this popular Joomla template framework has recently released version v2.0.13. This latest release boasts a series of critical updates and bug fixes, paving the way for a superior web design experience. Let's dive in to see what's new!
Bootstrap Upgraded to the Latest Version In this latest update, Helix Ultimate has incorporated the latest version of Bootstrap, v5.2.3. This upgrade to the world's most popular framework for building responsive, mobile-first sites means users can now enjoy all the advanced features and functionalities of Bootstrap. This upgrade, combined with the already-powerful Helix Ultimate, allows for even more dynamic Joomla site design.
Interested in learning more about the latest Bootstrap? Check out their official documentation.
Introduction of New Grid Settings in Layout's Column Options A significant change in the Helix Ultimate update is the expansion of the Grid setting in Layout's Column Options. Previously limited to Large Desktop only, users now have the capability to adjust Grid settings for Extra Large Desktop as well. This added functionality allows for greater flexibility in crafting different column structures for different devices.
In addition, updates to the Responsive settings have been made in both Column and Row Options, including the addition of a "Hidden on Extra Large Desktop" setting.
Important Fixes Implemented This update also includes several notable fixes:
There was an issue where the date for the Countdown on the Coming Soon page was not displaying correctly for non-English languages. This issue has now been addressed.

Users had been facing difficulties with the Custom Off-canvas feature when no colors were set. This problem has been resolved in this update.

Previously, the featured image was not appearing when searching for a blog article. This issue has now been rectified.
Please refer back to the original changelog for a comprehensive overview of all improvements and bug fixes in this release.
It is recommended to update to Helix Ultimate v2.0.13 to take full advantage of these enhancements. Share your experience with the new version in the comment section. Happy developing!